Our Story
A Handful of Sand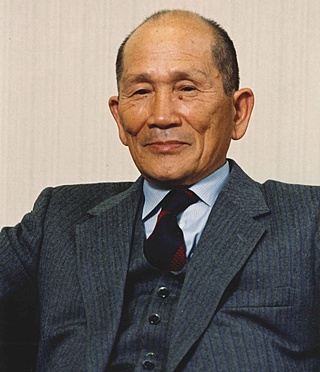 Through the support of many, we have established The Otsuka Museum of Art to commemorate the Otsuka Pharmaceutical Company's 75th anniversary. I remember back when I was 5 years old, my father Busaburo founded the company and carried me on his shoulders to see the factory's construction site. Compared to the factory of his former boss, the building seemed far too small. I can still recall my father's words when I asked him if our factory was to be this small: "Well, it might be small now, but one day it will be bigger than my boss's factory." That day seems like only yesterday, yet 75 years have passed since.
A handful of white sand for Tokushima Prefecture
We first began developing these ceramic art plates 27 years ago. At the time, I was president of the Otsuka Group's various corporations, with my youngest brother Masatomi (currently President of Earth Chemical Co., Ltd) serving as the Technical Manager of one such company, Otsuka Chemical. One day, he came to me accompanied by Hiromasa Itagaki (now a Director of Otsuka Ohmi Ceramics Co., Ltd.), and began by pouring a handful of sand onto my desk.
"We have something to ask of you," he said.
When I asked about the sand, he explained that it was from the Naruto Strait.
Our factory faced the Kii Channel, with a white-sand coastline running all the way to the strait, from which the sand had come.
"We are looking to make tiles from this sand. It is being extracted and ferried by boat to Osaka and Kobe, where it is sold by the ton to make concrete for construction. However, I believe using the sand to manufacture tiles would create a far more valuable product, something that would benefit both Tokushima Prefecture and our business. That's why we were hoping you could speak with the Prefectural Governor about obtaining permission to extract this sand for making tiles."
Both men were prepared to leave their jobs if Otsuka did not embark on this venture, a conviction that impressed me. I spoke directly with the serving Governor, Yasunobu Takeishi, and received his permission.
Establishing technology leader Otsuka Ohmi Ceramics
These events led us to set up a kiln within the Naruto factory and begin tile production. We began with small tiles and gradually increased the size until we were capable of making 1m-square tiles without warping or cracking, creating finished products where 20 tiles out of 20 were fine, a 100% success rate.
Manufacturing large-scale ceramic products is difficult in itself, to say nothing of producing 1m-square ceramic plates without any warping. It was a great challenge. At that time, even in America production of such tiles had a success rate of merely one in twenty, with the rest being of inferior quality. This showed that our technology was far superior, an outstanding achievement. And yet, we sought to acquire even more advanced production technologies by establishing a new company in a joint venture with Ohmi Chemicals & Ceramics Corporation (at the time, President: Takashi Okuda, Plant Manager: Minoru Okuda (current President of Otsuka Ohmi Ceramics)) in Shigaraki, Shiga. This new company was Otsuka Ohmi Ceramics Co., Ltd., with myself appointed as President.
A turning point, a world-first success
The company was established in Showa 48 which, as many of you know, was also the year of a crisis that brought a sudden twelve-fold increase in oil prices. Amid these extraordinary conditions, building construction came to a complete halt. For us, this meant that the company we had established was unable to operate as intended.
After deliberating on the situation, the Board of Directors raised the suggestion of transitioning towards artworks painted on ceramic plates. The first piece we produced was Ogata Kōrin's Kakitsubata, a process that involved making several flawless ceramic plates, measuring one meter by three meters, to be arranged side-by-side.
Day after day, we continue our research efforts, creating, and often breaking, pieces in the pursuit of perfecting our artworks. Before long, we were able to produce even larger ceramic art plates. Next, we put our efforts into tackling the challenge of color,
developing nearly 20,000 different hues. This enabled Otsuka to successfully create our large-scale ceramic art plates.
A new opportunity
In Showa 50, I was in Moscow on a business trip related to an anticancer drug contract with Taiho Pharmaceutical. While visiting a cemetery on the city's outskirts, I noticed business card-sized photographs affixed to the graves of nurses and Soviet soldiers who had perished in the war,
as well as a photograph on the tomb of Nikita Khrushchev about the size of a Japanese magazine. Naturally, it was printed not on tile but paper. While being protected from the rain by a plastic cover, the surface was exposed to the sun's ultraviolet rays; despite being relatively recent, the photographed face was already sunburnt and faded to a dull color.
This made me realize that, if we could manage to print photographs on our ceramic plates, the result would be a splendid image that could be preserved for eternity without fading.
While it is said that "A tiger dies and leaves his skin; a man dies and leaves his name", the names actually immortalized by posterity are extremely few. On the other hand, preserving one's image for eternity on a ceramic plate is something that anyone can do.
 In the past, Dutch merchant ships carrying Chinese Jingdezhen porcelain and Japanese Arita ceramics to Europe sometimes encountered storms en route and sank in the Indian Ocean. When the cargo of such ships was brought to the surface centuries later, those ceramics still retained their original color and form. While ceramics made during that period were fired to 1,000˚C, our ceramic art plates are now produced using specialized technology that raises the temperature to 1,300˚C. This ensures that they maintain their appearance for as long as one or two thousand years.
Let us consider our ancestors; I know about my family as far back as my great-grandfather's generation, but not the forefathers and mothers that came before. The same would likely be true for most people. This is because no photographs exist. Similarly, while painted portraits exist, we have no photographs of Emperor Jinmu, Amaterasu or other ancestors of Japan's imperial family, or historical figures such as Takeda Shingen, Uesugi Kenshin, Oda Nobunaga, Toyotomi Hideyoshi, Tokugawa Ieyasu, and Mōri Motonari. Had these portraits been produced as Otsuka's ceramic plates, their true forms would be preserved semipermanently, possibly altering the very history of Japan.
Our duty is to convey the true face of Japan today to future generations and respect our familial forebears by caring for our parents and honoring our ancestors. To this end, we produced ceramic plates with splendid color or monochrome photographs (portraits).
Establishing the Otsuka Museum of Art – With Gratitude to Tokushima
Our success in producing large-scale ceramic art and photograph plates coincided with the 50th anniversary of Otsuka's founding. We began to discuss creating something for future generations, not only for ourselves but to be shared by all. Unfortunately, this wish was not yet fulfilled when my father passed away at the age of eighty.
25 years have passed since that time. Otsuka has grown from a company of 17 employees at the end of the war to its current staff of 23,000, with 7,000 in Tokushima Prefecture. As a symbol of our gratitude to the people of the prefecture over all these years, in accordance with my father's dying wish and my own convictions we set out to construct a project in Tokushima to commemorate our 75th anniversary. This led us to establish the Otsuka Museum of Art at its current location near the Naruto Strait, with the concept of showcasing only masterpieces of Western art.
Changing Colors – Ceramic Reproductions Preserve Masterpieces for Eternity
With construction proceeding smoothly and the number of works exceeding one thousand, we were able to complete the exhibits and open the museum to the public as planned. Under the leadership of Professor Masanori Aoyagi, Vice-Dean of Tokyo University, the museum showcases a selection of past and present Western masterpieces, with the basic aim of educating various students about art.
We hope that a student viewing these images might, in the future, seek out the original works while honeymooning overseas.
Above all, as ceramics these paintings will not be affected by time. As the original works gradually change,
fifty years or a century from now their colors and forms will naturally differ from those of the ceramic reproductions. We established this museum of ceramic plate reproductions with the intent of conveying their true appearance for eternity, preserving them as a legacy for future generations.
On your visit, please let us know if you find any imperfections so that we may correct them, as we work to make a contribution that will last for millennia. This museum is also our contribution to the people of Tokushima Prefecture.
In writing this, I hope to convey how 'a handful of sand' became the foundation for establishing the Otsuka Museum of Art. Thank you for your continued guidance and support.
Past additional display
▮ 2003/4/25 *

Business of the 5th anniversary of the opening
Leonardo da Vinci

"

Last Supper (after the restoration)"

(
Abbey of Santa Maria delle Grazie, Italy)
Vermeer

"

Girl with a Pearl Earring"

(
Mauritshuis, the Netherlands)
▮

2007/4/1

■
Business of the 10th anniversary of the opening
Michelangelo
Cappella Sistina ceiling picture perfection reproduction

(
Cappella Sistina, Vatican)
Gogh

"The Sunflower" of the illusion

(
is destroyed by fire in Ashiya-shi, Hyogo in 1945)
▮

2018/3/21 *
Business of the 20th anniversary of the opening
Van Gogh "
Sunflower "(
personal storehouse)
Van Gogh "

Sunflower "(

New Pinakothek, Germany) 
Van Gogh "

Sunflower "(

The National Gallery, the U.K.) 
Van Gogh "

Sunflower" (SOMPO

museum, Japan)
Van Gogh "

Sunflower "(

Philadelphia Museum of Art, the United States)
Gauguin "Gogh representing the Sunflower

"(
Van Gogh Museum, the Netherlands)
Gogh

"

The artist on the road to Tarascon"(
1945 disappearance, Magdeburg, Germany)
Israels

"

"woman who stands before Van Gogh's << Sunflower >>"
(
Van Gogh Museum, the Netherlands)
Vermeer

"

A Young Woman standing at a Virginal

"(

The National Gallery, the U.K.)
Vermeer

"

geographer" (Staedel, Germany)
Vermeer "daughter who has with a wineglass

"(

Herzog Anton Ulrich Museum, Germany)
Leonardo da Vinci "lady to embrace in hakuten" (Czartoryski Museum (Krakow National Gallery annex), Poland)