The "Sunflower" of the Gogh product illusion additional display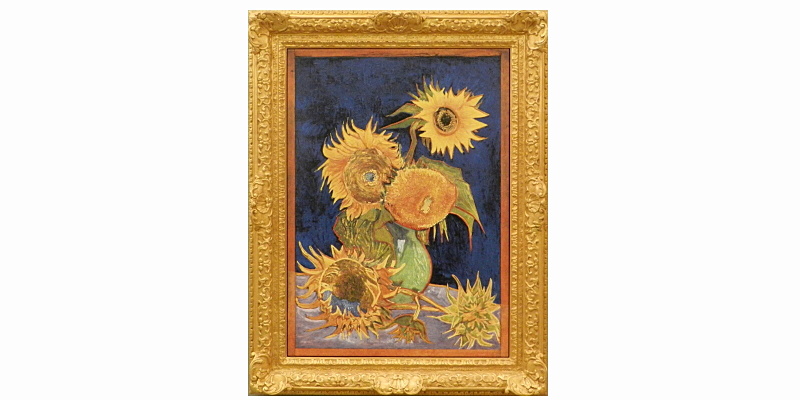 98 X 69cm - destroyed by fire in Ashiya-shi, Hyogo in 1945

The Otsuka Museum of Art was destroyed by fire in "the Sunflower" which Gogh drew in an occasion of World War II and reproduced Sunflower "of popular name" Ashiya that I could never see with full-scale Sue board and displayed it more.
I invited grandchild Chiiko Kamei couple to give an order to start it of jitsugyokasanhonkaerimiyatashi of Osaka that considered it to be Fukushima, and received a deputy manager, a request of the Shirakaba school of Japanese literature from Mr. Nobuyuki Chiashi (Seijo University's emeritus professor, this museum picture arts and sciences committee member) of the supervision, the Saneatsu Mushanokouji Memorial on 2014/10/1, and purchased a work and performed an unveiling ceremony.
■From Otsuka Museum of Art director Ichiro Otsuka
I reproduced "Sunflower" of Gogh called Sunflower "of popular name" Ashiya that was brought for the first time in Japan in Taisho 9 by Saneatsu Mushanokouji and others Shirakaba school of Japanese literature, and was destroyed by fire in the occasion of the Ashiya Univ. air raid 69 years ago with Sue board image and progressed to display it more. For Otsuka Museum of Art, it was the first attempt to restore a masterpiece destroyed by fire by war damage with Sue board, and the reproduction of the lost global masterpiece was my grandfather who was first Director, request of Masahito Otsuka.
I am the unveiling ceremony and thank the effort of the ancient people who had you introduce charm of "the Sunflower" of Gogh to Japanese and pray for being able to appreciate alone "the Sunflower" which I reproduced toward most.

■Saneatsu Mushanokouji Memorial deputy manager Fukushima Satomi
It is white birch art museum establishment exercise that began in Taisho 6 that Saneatsu Mushanokouji and others white birch coterie wants to bring a work of the art by all means in Japan in Gogh still rare in those days, Cezanne and others West modern times. And I approved of this exercise, and sanhonkaerimiyata which had you support it stopped, and Gogh "Sunflower" purchased it.
I pray for it being at the opportunity when Saneatsu Mushanokouji, white birch coteries, thought to hang in this work of sanhonkaerimiyata and an activity have for a long time many various places know it through this work.

■ Mr. Koyata Yamamoto, grandson of Mr. Tomonaga Kamei
My grandfather purchased this "Sunflower" for realization of the white birch Museum with Mr. Saneatsu Mushanokouji. He supported Mr. Saneatsu for art museum realization eagerly.
There is the human being producing a thing, but I feel that it must have it of a human being making an effort utterly to provide the thing which I made in the life, but think that the grandfather gave life to such a thing.
If a grandfather knows the effort of today's all of you, I think that I would thank you and am the gladdest of thought with Mr. Saneatsu remaining in the future.

■Supervision Nobuyuki Chiashi (Seijo University's emeritus professor/Otsuka Museum of Art picture arts and sciences committee member)
You may talk in a way to the art museum if I want to see an original and think that it is fantastic as, in fact, the Sunflower which came to a trifle in Ashiya does not disappear and revived here.
Of the work this in "Sunflower" of Gogh who is a number is greatest; is different; the number of, composition, the other of the flower of the background-colored. It is different from other "Sunflower" and is described in royal blue. In addition, a flower is impressive, and it is cheered up that there is little number of flowers and sees it. Purple of the table is a few color in other "Sunflower". He changes the color to some extent, and Gogh describes the break of the table. It may be said that the Sue board reappears carefully to such a place.
There are a lot of masterpieces which have been lost, but thinks that the significance of Gogh having revived in this way in favorite Japan may be big at all. The Otsuka Museum of Art reaches the 20th anniversary with a fast thing several years later, but I will make the Sunflower (excluded in the Paris times) of 7 points of oil painting in total in the future and hold the dream that it seems to be said when you should be able to make the Sunflower corner somewhere.