Café Vincent (B3F)


The third-floor Café Vincent under the ground
In this cafe which named it from first name of Gogh,

I

prepared for the dessert which could take a break between appreciation

including the menu which was good to a lunch under the theme of France which I spent as

the hometown Netherlands and a painter of Gogh.
Business hours: 10:00-16:45

(the last order: until food 16:15 until drink dessert 16:30)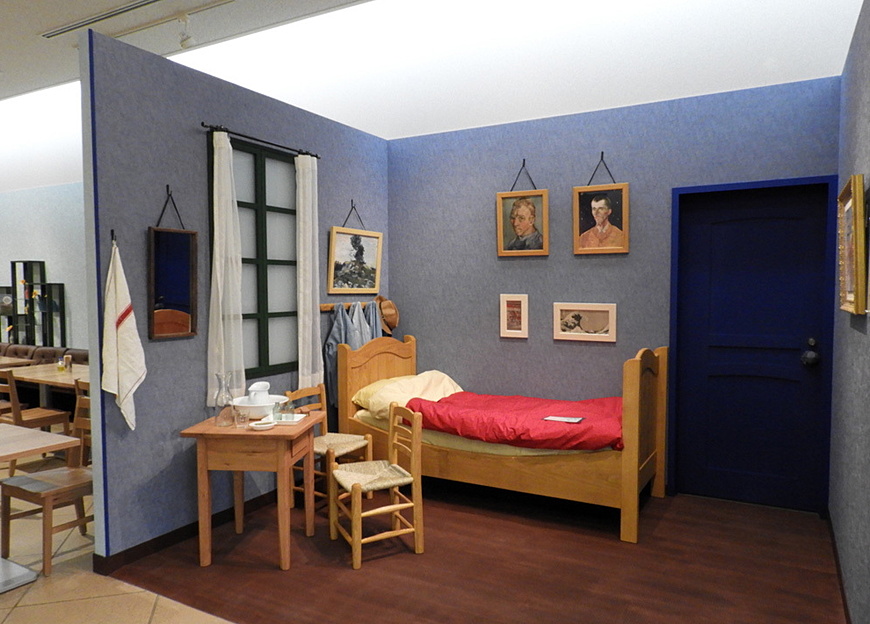 The taking picture of Gogh corner that reproduced masterpiece "Artist's Bedroom at Arles" realistically.

I can actually experience the world of Gogh drawn in the picture as I can enter the room.
Room of Gogh

"The Artist's Bedroom at Arles"
is the wor
k about the
room of popular name "yellow house" the second-floor Gog
h whom
there wa
s
in Arles of south France
.
In an atelier on "yellow house" the first floor
, Gogh
create
d
many work
s
including "Sunflower
" and
worked har
d
at work production with Gauguin whom I invited to Arles
.
Gogh creates three points of works of the same nam
e, and
you can see a work of the Musée d'Orsay possessio
n in this museum.
,
Menu

Province-style herb chicken (with bread) 1,200 yen
I attach source Tokushima sudachi
of the fresh suite basi
l
to spicy grass-flavored soft chicken and grilled seasonal vegetable
s,
and it is fragrant, and is it rich?
Soup (with bread) 1,200 yen of Sunflower salad and seasonal vegetables
So that Sunflower sews marinated roast chicken and colorful vegetables.
Be studded with sunflower seeds and the Parmesan cheese which you baked crisply.
Please with "soup to eat" and the set of a good vegetables.

Thick-sliced bacon and frank sausage (with bread) 1,200 yen
Mashed potato and the
herb vegetables
which
are creamy in fleshy bacon and specially made Frankfurt
.
Have it in a mustard sauce.

Smoked salmon sandwich 950 yen
The
Maas dam cheese which is high in popularity in the cheese kingdom Netherlands an
d the
affinity of the smoked salmon are outstanding!

Roast beef sandwich 950 yen
With roast beef and seasonal vegetables, it is sand in a cheese source.

Big yellow pudding 650 yen of Gogh
12cm in diameter! Traditional custard pudding.

Caramel waffle coffee 450 yen
A Netherlands baked confectionery strike rope waffle and a set of coffee.
When I ride a waffle on the cup and soften it by the steam and eat
A caramel is fatty tuna ... re.

Green smoothie yellow smoothie for each 600 yen
I am refreshed with the seasonal vegetables of the Tokushima product and a smoothie using the fruit!
(in all, tax-included)