The Ceramic Board Masterpiece Art Museum
The making of ceramic board masterpieces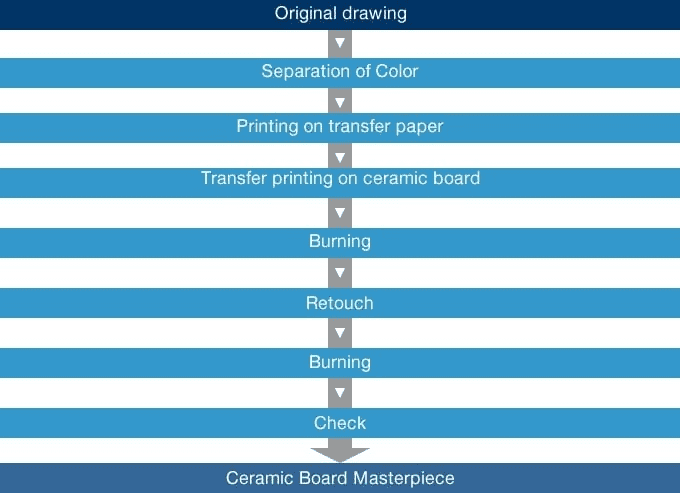 Original picture> Color separation> Printing on transfer paper> Transfer to ceramic plate> Firing> Retouching> Firing> Inspection> Ceramic plate masterpiece
-Masterpieces faithfully reproduced that will not fade even after 2000 years-
I reproduced a work with a color, the size that was faithful to the original picture to The Ceramic Board Masterpiece Art Museum, a big board of the earthenware.
A color does not age in comparison with paper and a canvas, an earth wall, and I see a real masterpiece, but, as for the size, actual size can taste force and a sense of reality of untying it again as I am reproduced.
"Mona Lisa" "Last Supper" "Guernica"… If I can leave a world masterpiece with the same figure forever…!
The technique and the Ceramic Art Board came out of the eager wish for such a world to exist.
Otsuka Museum of Art is the world's first Sue board masterpiece Museum, which was created to realize such a wish; within our exhibit space, our pride as the largest in Japan, Otsuka Ohmi Ceramics Co. Ltd. technology was used to recreate more than 1000 masterpieces from around the world, recreated to the original size and appearance, and collected in our halls.


Copy onto the ceramic board