Basic Information
Museum Hours of Operation
On Monday (closed the next day when Monday is a public holiday)
There are
The museum will be closed for 5 days consecutively after the New Year Holiday in January., The museum will be open throughout August.,
Other than that, special museum holidays
Museum Admissions Fee
(All prices include tax)
University students 2,200 yen
Small junior and senior high school students 550 yen
● The museum ticket sales until 16:00
● Re-entry to the museum is limited to the same day. Please report at the time of leaving by all means
● Groups of 20 people or more is 10% discount
● The students, please show student ID at the time of entering a building
● The University students applies in national/public/private universities, independent administrative educational institution and educational institution
● One person (guests for whom paid entry is required of the Elementary/Junior High/High School students and up) having a disability certificate and one companion discount in half off of the same-day ticket (Adults 3,300 yen, University students 2,200 yen, small junior and senior high school students 550 yen).
Please purchase it in the same day, museum ticket sales area (9:30-16:00).
(person with a physical disability notebook, nursing notebook (protection notebook, notebook of the love, green notebook), mind person with a disability health welfare notebook,
A-bomb victim notebook (health handbook of an A-bomb victim)).
● Multiple discounts cannot be applied to one ticket 
● It is only an escalator of about 40m from the front entrance. One and an escalator of the wheelchair show around the entering a building entrance during uneasiness separately.
Please contact us if you have any other concerns.
● The rental of wheelchair, stroller is B3F Information Desk
●
A

ticket window at the front entrance of the Otsuka Museum of Art

is a

target store

of the Ministry of Economy, Trade and Industry "cashless point reduction system". (to 2020/6/30)
※JC
B, American express, Diners Club, VISA, a credit card of MASTER apply (the card issued abroad is inapplicable).
※In the case of the purchase, it is not the limit mentioned above in Online Tickets, convenience store tickets (available nationwide), an advance ticket sale place
.
Ask the confirmation on the website of each facility or the directly purchase point.
Museum Rules
● The dining is in the designated locations, please
● Please refrain from the shooting that I use fixed camera equipment such as flash, flash, the tripod (the commercial objective use prohibits it strictly)
● Please do not bring pets into the museum
●
The art museum site (I include a parking lot) should give all up smoking from Friday, June 19, 2020. I include the heating-type cigarette, electronic cigarette.
Overview of OTSUKA MUSEUM OF ART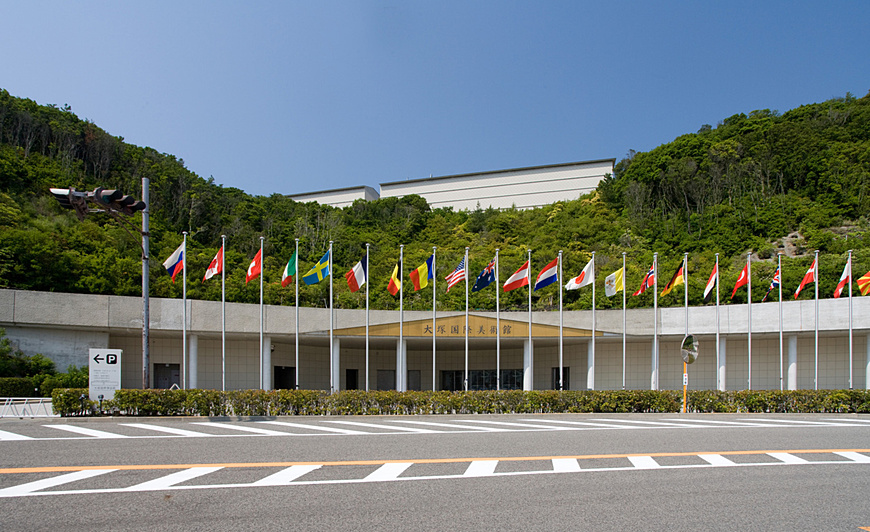 Land area: 66,630 square meters 
Building area: 9,282 square meters
 Floor area: 29,412 square meters (8,897 Tsubo)
 Construction: Reinforced concrete, with part steel frames
 Number of floors: 5 floors underground, 3 floors aboveground
 Architec: Sakakura Associates
 Construction: Takenaka Corporation
 Opened: March 21,1998
 Located in the National Park,Naruto-cho,Naruto-shi,Tokushima 772-0053 JAPAN
 Tel 088-687-3737
 Fax 088-687-1117
 E-mail:info@o-museum.or.jp  
http://www.o-museum.or.jp/
Otsuka Museum of Art Museum Identity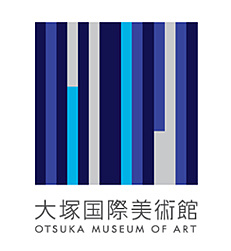 The theme color is Lapis lazuli blue, which is highly valued as an extravagant color even among Western masterpieces. Then, the logo represented the ″ceramic board masterpiece collections″ collected by the Otsuka Museum of Art from all over the world.
 This blue color is being used extensively in numerous collections representing the Otsuka Museum of Art. For example, many portraits such as Jan Vermeer's ″Girl with a Pearl Earring″ and the Virgin Mary, are said to be impossible to create without lapis lazuli.
 Furthermore, this color means ″over the sea,″ and is also called ″ultramarine blue.″ Surely, the fact that visitors can see many magnificent masterpieces from across the ocean while in Japan speaks for the Otsuka Museum of Art's idealism.