Homage work to Gogh addition
Display additional on a birthday of Gogh!
The Netherlands Impressionists Isaac Israels
Woman standing in front of Van Gogh's Sunflowers
I establish it permanently more from 2019/3/30 and display it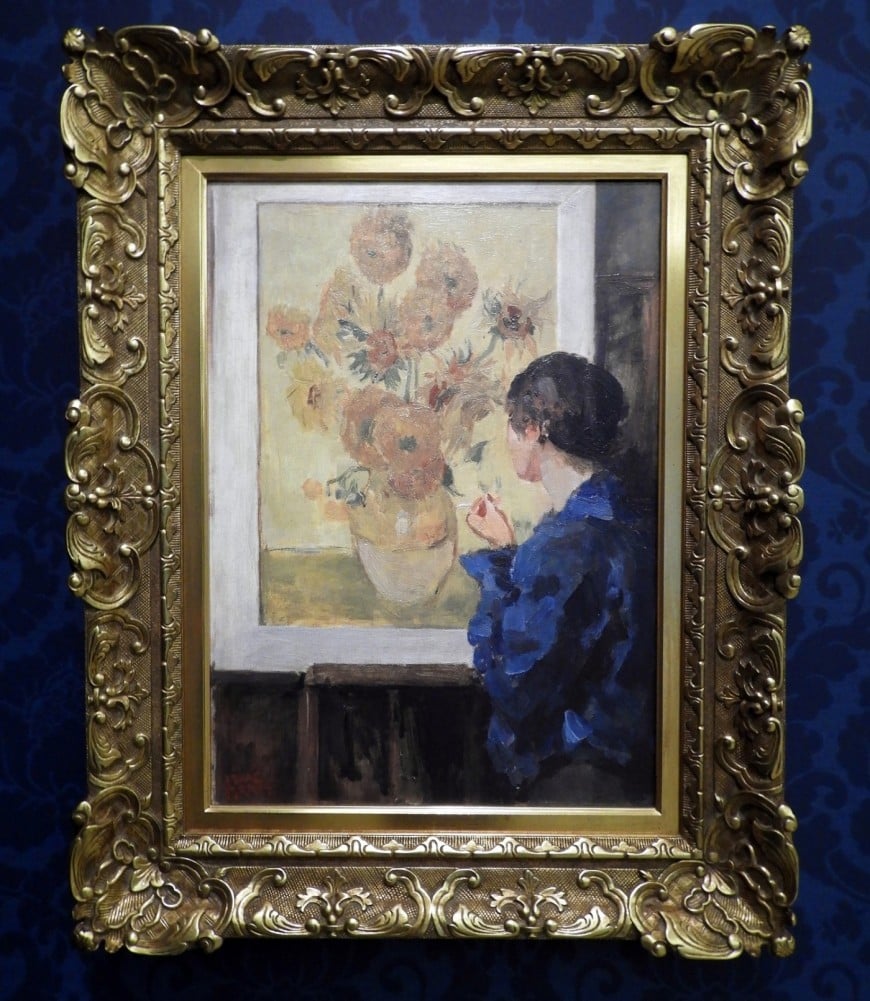 "The woman who stands before Van Gogh" "Sunflower"
Around 1920 70.5*50.5cm Van Gogh Museum, the Netherlands
I reproduced it, and put together a birthday of Gogh, and, as for the Otsuka Museum of Art, addition, permanent construction displayed "the woman who stood before Van Gogh" "Sunflower" whom painter Isaac Israels (1865-1934) on behalf of the Netherlands Impressionists drew to the actual size with Sue board on the same day, on 3/30.
The wife yaw of younger brother Theo of Gogh (1853-1890) rented "Sunflower" to the Israels which was a special friend free of charge for 3 years (1918-1920). "The Sunflower" is displayed in the home living room of the Netherlands Hague where Israels lived in in those days, and the woman who watches a work while smoking is described. It is the work which can say that it is hommage to Gogh who came under a great influence.
Gogh draws "the Sunflower" which entered the vase 7 pieces, and it is said to be the 4th "Sunflower" to appear to the picture of the Israels, and The National Gallery of London purchases it from wife yaw in 1924.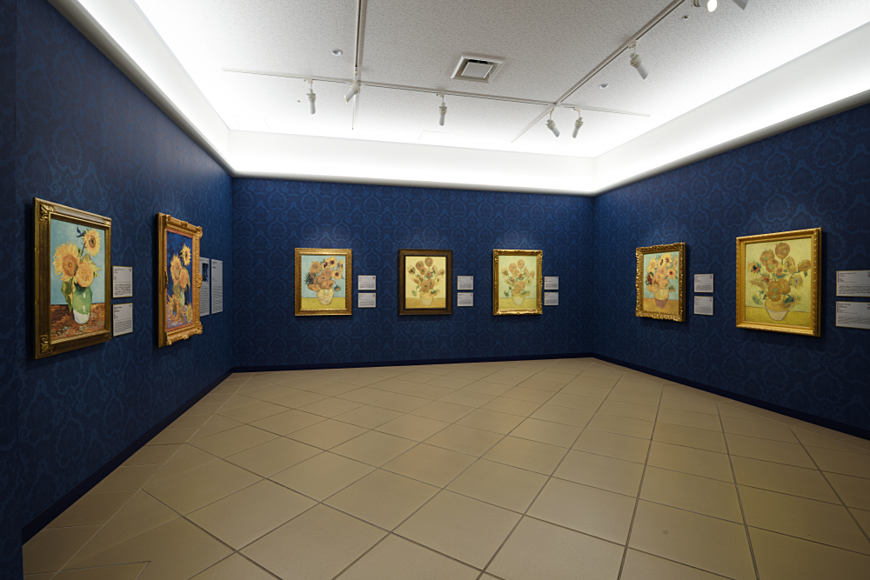 ▲The exhibition room where all the people here can appreciate "the Sunflower" which entered the vase. The fourth "Sunflower" comes up in an image of the Israels from the left.
Gogh work inspection (16 points) that I can appreciate in this museum
| | | | |
| --- | --- | --- | --- |
| | Work name | Possession | Work No |
| 1 | Self-portrait of the straw hat | Detroit art research institute, the United States | 704 |
| 2 | Self-portrait | Musée d'Orsay, France | 705 |
| 3 | Artist's Bedroom at Arles | Musée d'Orsay, France | 707 |
| 4 | Bright starry night of the Rhone | Musée d'Orsay, France | 708 |
| 5 | Sowers | Kroller-Muller Museum, Netherlands | 709 |
| 6 | Portrait of Dr. Gachet | Musée d'Orsay, France | 710 |
| 7 | Church of Auber | Musée d'Orsay, France | 711 |
| 8 | Potato Eaters | Van Gogh Museum, the Netherlands | 1022 |
| 9 | Sunflower | Personal storehouse | 1076 |
| 10 | Sunflower | Destroyed by fire in Ashiya-shi, Hyogo in 1945 | 1075 |
| 11 | Sunflower | New Pinakothek, Germany | 1077 |
| 12 | Sunflower | The National Gallery, the U.K. | 1078 |
| 13 | Sunflower | Sompo Museum of Art, Japan | 1079 |
| 14 | Sunflower | Philadelphia Museum of Art, the United States | 1080 |
| 15 | Sunflower | Van Gogh Museum, the Netherlands | 706 |
| 16 | "The artist on the road to Tarascon" | 1945 disappearance, Germany | 1082 |