Otsuka Museum of Artwill celebrate its 25th anniversary on 2023/3/21 (Tuesday/holiday).Commemorating thisFrom 3/14 (Tuesday), the "Café Terrace at Night" drawn by Vincent van Gogh, a master representing the Netherlands, will be reproduced on a ceramic board in full size and open to the public.Did.The museum currently has 7 works on permanent display, including 16 of Van Gogh's "Sunflowers," but with this addition, a total of 17 works can be viewed in one place.Please look forward to the new exhibition of Van Gogh, which continues to fascinate many people.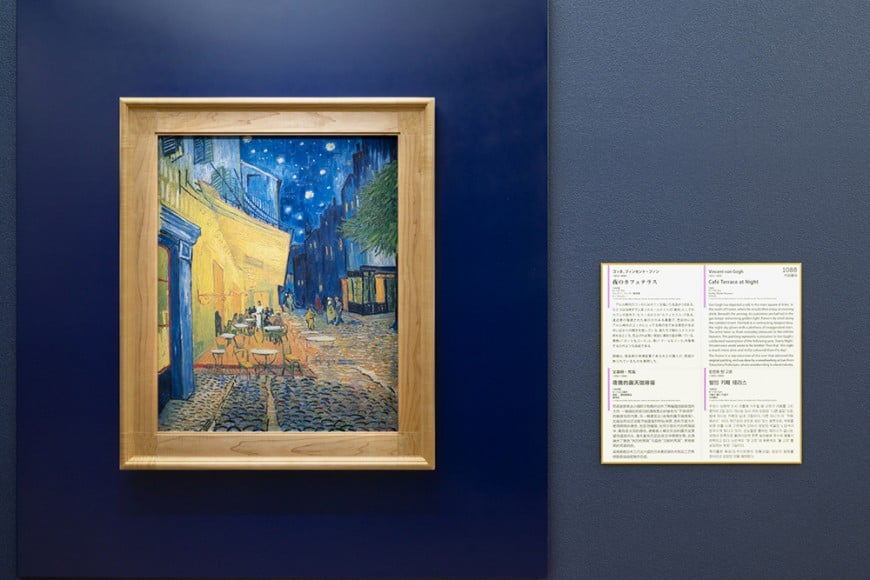 Van Gogh "Café Terrace at Night"
1888 oil on canvas 81×65.5cm
Kroller-Muller Museum (Otterlo, Netherlands)
The 1st floor modern exhibition room 60 under the ground
The stage of "Café Terrace at Night" is a cafe terrace built on Forum Square in the center of Arles, Southern France.This café actually exists and was the place Van Gogh visited with his fellow painters at the time.
Under the "blue" night sky with twinkling stars, the cafe terrace illuminated by gas lamps shines "yellow".This is Van Gogh's specialty of color contrast, and it is considered a masterpiece representing the Arles era, which depicts a night view without using black.
He had a dream, "I want to decorate the atelier in Arles with the Sunflowers I drew and welcome Gauguin, my sworn friend," and completed four "Sunflowers" in less than a week.After that, he produced this work in September, the month before Gauguin arrived.It is also believed that the approaching carriage in the center of the painting is expected to arrive.
Vincent van Gogh (1853-1890)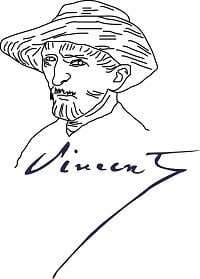 Born in 1853 in the southern Dutch village of Float Zundert as the son of a minister. He aspires to be a priest but is frustrated, and at the age of 27 he goes on to become a painter.He relied on the painter's younger brother Theo to move to Paris and eventually to Arles, southern France. He started living together with his best friend Gauguin, but went bankrupt in 2 months. Later, he suffered from mental illness and died himself at Auvers-sur-Oise, at the age of 37. Although he had a short life as a painter for 10 years, his work is loved by many.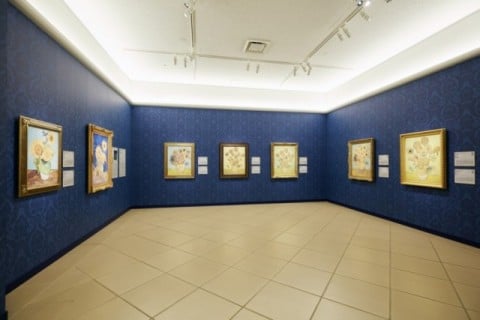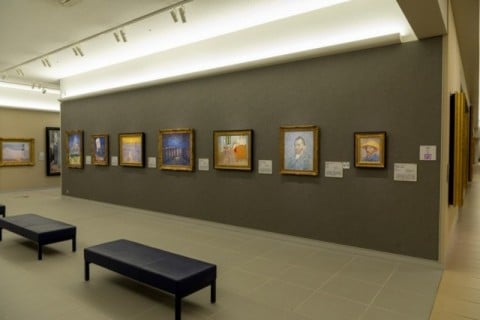 Otsuka Museum of ArtList of Van Gogh works that can be viewed at (17 points)
| | | | |
| --- | --- | --- | --- |
| | Work name | The possession name | Work No |
| 1 | Self-portrait of the straw hat | Detroit art research institute, the United States | 704 |
| 2 | Self-portrait | Musée d'Orsay, France | 705 |
| 3 | Artist's Bedroom at Arles | Musée d'Orsay, France | 707 |
| 4 | Bright starry night of the Rhone | Musée d'Orsay (deposited), France | 708 |
| 5 | Sowers | Kroller-Muller Museum, Netherlands | 709 |
| 6 | Portrait of Dr. Gachet | Musée d'Orsay, France | 710 |
| 7 | Church of Auber | Musée d'Orsay, France | 711 |
| 8 | Potato Eaters | Van Gogh Museum, the Netherlands | 1022 |
| 9 | Sunflower | Personal storehouse | 1076 |
| 10 | Sunflower | Destroyed by fire in Ashiya-shi, Hyogo in 1945 | 1075 |
| 11 | Sunflower | New Pinakothek, Germany | 1077 |
| 12 | Sunflower | The National Gallery, the U.K. | 1078 |
| 13 | Sunflower | Sompo Museum of Art, Japan | 1079 |
| 14 | Sunflower | Philadelphia Museum of Art, the United States | 1080 |
| 15 | Sunflower | Van Gogh Museum, the Netherlands | 706 |
| 16 | "The artist on the road to Tarascon" | 1945 disappearance, Germany | 1082 |
| 17 | cafe terrace at night | Kroller-Muller Museum, Netherlands | 1088 |