"Mr.Back Koo Young" Top choreographer in K-Pop world
"Pega-chan" The Idol of Otsuka Museum of Art
The first collaboration video from Tokushima to the world is now available!
[period] From Tuesday, 2023/10/3 to Sunday, 2024/3/31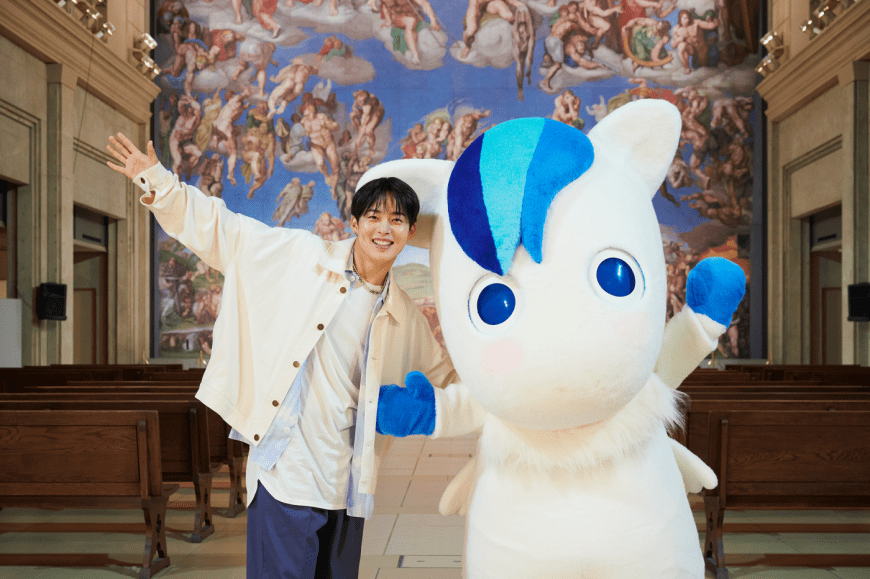 Otsuka Museum of Art asked Mr.Back Koo Young, a top choreographer and dance master who has choreographed for many K-Pop groups, to choreograph the art museum's idol "Pega-chan."
 Pega-chan received dance lessons directly from Mr.Back Koo Young teacher.A collaborative dance video will be released on SNS from 2023/10/3,We aim to expand into the world!
 The song is "Paradise Has No Border" by Tokyo Ska Paradise Orchestra.
 ★The 25th anniversary theme song "Departure" was written by the same artist.
Please look forward to the dance performance by Mr.Back Koo Young and Pega-chan, which will be performed in time with rhythmic music!
■Mr.Back Koo Young x Pega-chan dance video released on SNS!
Sistine Hall, Van Gogh's "Sunflower", etc.Otsuka Museum of ArtHighlights: Have fun dancing in front of the works! 
Please pay attention to the outstanding dance performance.
[Period] 2023/10/3 (Tuesday) - 2024/3/31 (Sunday)
 \From 2023/10/24 (Tue) /
■SNS dance challenge project"#pegachallenge"start!
Watch Baek Goo-young's model video and try your hand at it♪
Three people will be selected each month from among those who dance.Otsuka Museum of ArtGet a pair of admission tickets as a gift!
It is about a participation method, application terms, the successful announcement  here
[Period] 2023/10/24 (Tuesday) to 2024/3/31 (Sunday)
\From 2023/10/24 (Tuesday)/
\From 2023/11/18 (Saturday)/
■Interview video released!
Also being aired on "Pegacchi's Room"!
An interview video (approximately 2 minutes) with Baek Goo-young is also being shown in the new "Pegacchi Room" on the second floor of the museum.
[Period] 2023/10/3 (Tuesday) - 2024/3/31 (Sunday)
[place] Otsuka Museum of Art 2st floor above ground (modern exhibition room) next to elevator 2

Mr.Back Koo Young Profile
K-POP groups "TVXQ", "EXO", "THE BOYZ", global boy group "JO1", etc.
A top choreographer who handles choreography.
A dance master belonging to 1 MILLION DANCE STUDIO.
Appearing on "Hitachi World Mystery Discovery! The world is crazy! Approaching the roots of K-POP!"
2023 Mnet talk variety show "Oh Ji-gyeong" solo MC
2023 THE BOYZ "ROAR" choreography production
2023 Mnet audition program "Boys Planet" Dance Master
2021 THE BOYZ "MAVERICK" choreography production
2020 EXO member KAI "Mmmh" choreography production
Mr.Back Koo Young official
1MILLION DANCE STUDIO Official