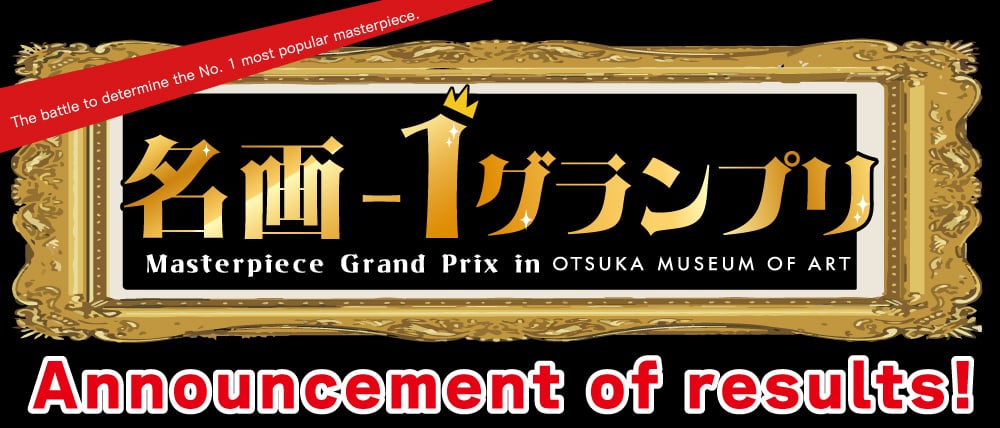 A total of 26,397 votes! !
Celebrated its 25th anniversaryOtsuka Museum of ArtThen.
We hold "masterpiece - 1 grand prix" to decide popular No. 1 masterpiece.
Thank you for the many votes for your favorite picture.
Popularity
No.1
The museum celebrated its 25th anniversary with the title ofOtsuka Museum of Art
The work that will be the "face" of this year is...

At the age of 43, Monet moved to Giverny, France, where he painted more than 200 Water Lilies.This work is the culmination of that work. It is a large work on four sides, and although it should have been painted while looking at the same water lily pond, when you compare them, the colors are slightly different.Monet was a painter who was obsessed with light, and with his sharp observational eye and method of expression, he captured and painted the delicate light that changes depending on the time of day.Otsuka Museum of ArtThen, in order to fulfill Monet's wish to see his work under natural light, it is displayed outdoors.
Appreciation tool that allows you to learn more about Claude Monet and "Great Water Lilies"!
Read the two-dimensional code displayed in the museum with your smartphone!
2023/8/11 (Friday / holiday) ~

3 locations in the museum (B3F in front of Sistine Hall, B2F Monet's "Large Water Lilies", B1F Exhibition Room 70)

In conjunction with the event, Sun TV will broadcast "Learning Art Animation"! !
The reincarnated characters of the seven masters,Otsuka Museum of ArtIt is an original story that presents "recommended masterpieces" for the "Masterpiece-1 Grand Prix" to be held at , and decides the museum's most popular masterpiece.
The cast includes seven popular voice actors, including Shota Aoi, Takuya Sato, and Tasuku Hatanaka!
Click the image above for details


Anime collaboration goods are now on sale!

clear file
330 yen (tax-included)

Ballpoint pen (3 types) 
440 yen each (tax included)

Check Twitter for the latest information and production secrets!
[Official Twitter] Seven Voice Museum ~ Masterpieces and Seven Masters ~
※I change the Events by the situation and may stop.