Approach with the Naruto-shi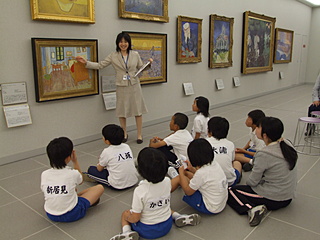 Targeting at fourth graders of the Naruto-shi, learning to appreciate programs a work while taking the dialog.

Today when "appreciation education "is regarded as important by elementary school drawing and manual art learning, I support the appreciation education in the art museum, and even the class of the school provides the program that used the card which I can utilize to a child and a teacher.
It is the teaching materials which Associate Professor at Naruto University of Education, a Naruto-shi elementary school arts and crafts sectional meeting teacher, the three persons of this museum curator cooperate as for the appreciation card "art de go" and developed.
"A color "started by two kinds of cards of the theme with "a person" at the time of the program start in 2007.
At first I find an applicable work in a modern gallery of this museum, and how to use fills out the evaluation list on the back of the card based on the first impression that looked at the work. An appreciation leader (the art museum staff, leading teacher, art volunteer) appreciates a work slowly and carefully next while "what is drawn? "asks a child including "why is it that thought so? "about or "I am doing what". I compare an evaluation list of each person in a group and do it and talk about the impression of the work afterwards.
A "sound" card debuts!
From 2010, a "sound" card came up in addition to "a color ""a person" newly. I imagine a sound hearing from a work, and "what kind of sound do you hear? "talks about "why do you hear it? "and appreciates a work while letting the five senses work. The information about the author about the work is placed in the back of the card and can get knowledge depending on interest.