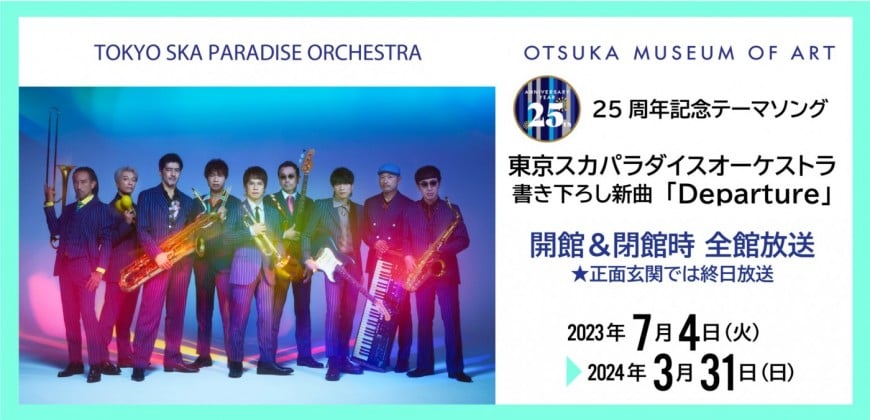 Otsuka Museum of Art The theme of the museum's 25th anniversary is to create a paradise for all art lovers.
"art paradise. "
Therefore, we are active in Japan and overseas, and Tokyo Ska's "

Paradise

We asked the Tokyo Ska Paradise Orchestra, which continues to expand the theme song, for the theme song. The newly written song "Departure", which is suitable for commemorating the quarter century, will be broadcast in the hall when the museum opens and closes.



For the Tokyo Ska Paradise Orchestra, this is the first attempt to provide a theme song for an art museum.
A comment has arrived from Mr. Yuichi Oki, the member who was in charge of the composition!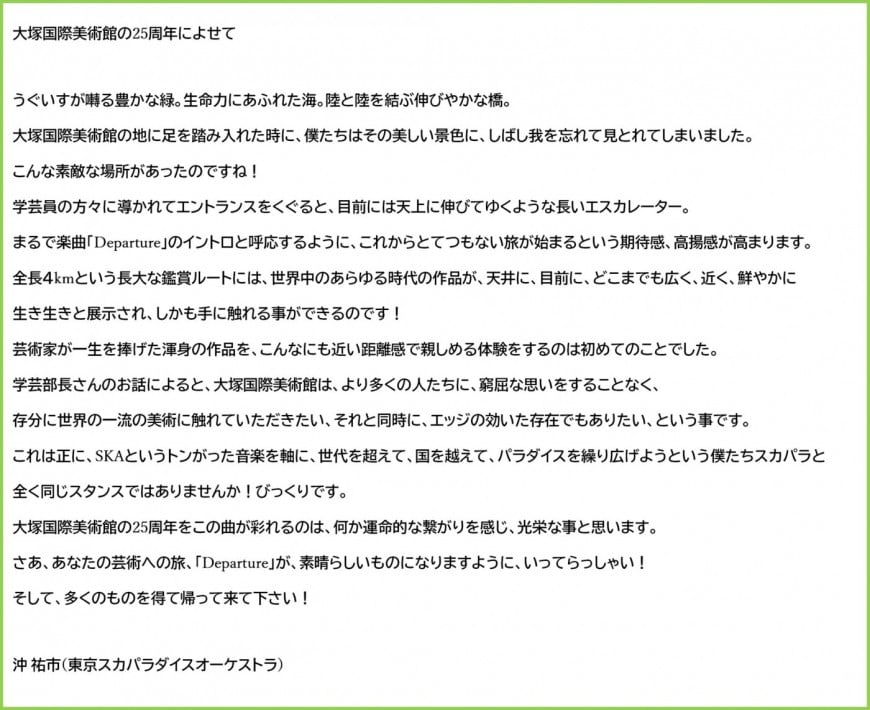 2023/7/4 (Tuesday) to 2024/3/31 (Sunday)
"Departure" (about 4 minutes)
Tokyo Ska Paradise Orchestra    
A 9-member ska band that Japan boasts to the world.He has performed in 31 countries around the world without staying in Japan, and has appeared in many of the world's largest music festivals. In 2021/8, he performed live at the closing ceremony of the "Tokyo 2020 Olympic Games", and in 2022 he made his first appearance on NHK Kouhaku Uta Gassen.With the band's theme "NO BORDER", they continue to expand the Tokyo Ska paradise while continuing to run at the forefront of the music scene.In 2024, we will celebrate the 35th anniversary of our debut.
※I change the Events by the situation and may stop.