Worksheet for the junior high student
Worksheet JCAM (Jay cam) for the junior high student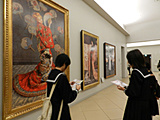 Otsuka Museum of Art is the Sue board masterpiece Museum which is unique in the world that reproduced Western masterpiece more than 1,000 points from the ancient times when 26 countries of the world, more than 190 art museums possess it to the present age at actual size by Sue board. In this museum, I start the education spread activity in 2004 and provide "worksheet JCAM (Jay cam) for the junior high student" from April, 2013.
As for the seat "play type" of selectable two kinds "standard type," there is page 4, and is independent, and judge a thought from what put a check, and describe in a pencil, and feel with a work closer, and can learn art naturally while enjoying it; set it up.
※ It applies to a junior high student group stayed in by free appreciation.
※ In the case of the use, apply beforehand (in two kinds one kind of either).
※ I hand the same day which I do not mail.
Play type
I pick up the recommended work of the art museum. The seat which a picture and an art museum come to like. I can learn a Western culture background and the heart of the artist. I made it to appreciate it although the first student looked forward to an art museum. ⇒PDF (2.6MB)
Standard type
I pick it up mainly on a work published in the textbook. I can learn about interchange and a color of the culture. I was interested in art and made it for the student who wanted to know the work in detail mainly. ⇒PDF (2.2MB)